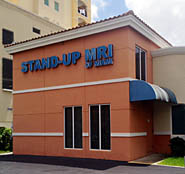 Need Help?
Please call us at
(305) 461-6005 if you have any questions - We're here to help.
Stand-Up MRI of Miami
1661 SW 37th Avenue, Suite 100
Miami, FL 33145
(305) 461-6005
(305) 461-8662 - Fax

About Stand-Up MRI of Miami

This facility was established in April, 2003. It is equipped with two MRI scanners.
The Stand-Up® MRI, a product of FONAR Corporation
3.0T Open-Bore, a product of Siemens
All of our reading radiologists are board-certified and our facility is accredited by the American College of Radiology (ACR).
We accept Medicare, Workers´ Comp, No-Fault and most other insurances. If a patient´s insurance is not on our insurance list, inquire about out-of-network prices. If a patient does not have any insurance, inquire about cash prices.
Hours of Operation
Monday - Friday: 6:00 a.m.- 10:00 p.m.
Saturday: 7:00 a.m.- 9:00 p.m.
Appointments outside of regular business hours may be available upon request.
Stand-Up MRI® Locations
Florida Locations
Stand-Up MRI of Boca Raton, FL
Stand-Up MRI & Diagnostic Center, Ormond Beach, FL
Stand-Up MRI of Ft. Lauderdale, FL
Stand-Up MRI of Miami, FL
Stand-Up MRI of South West Florida, Naples, FL
Stand-Up MRI of Orlando, FL
Stand-Up MRI of Tallahassee, FL
Stand-Up MRI and 3T Imaging, Pembroke Pines, FL
New York Locations
Stand-Up MRI of the Bronx, NY
Stand-Up MRI of Bensonhurst, NY
Stand-Up MRI of Brooklyn, (Park Slope) NY
Stand-Up MRI of Carle Place, NY
Stand-Up MRI of Deer Park, NY
Stand-Up MRI of East Elmhurst, NY
Stand-Up MRI of East Setauket, NY
Stand-Up MRI of Great Neck, NY
Stand-Up MRI of Islandia, NY
Stand-Up MRI of Lynbrook, NY
Stand-Up MRI of Manhattan, NY (Downtown)
Stand-Up MRI of Manhattan, NY (Midtown)
Stand-Up MRI of Melville, NY
Stand-Up MRI of Queens, (Flushing) NY
Stand-Up MRI of Staten Island, NY
Stand-Up MRI of Wantagh, NY
Stand-Up MRI of Yonkers, NY